Bob Dickey Why Did Gannett NOT Report About Me?
Tennessee is a hub of racism.... it's because of lack of reporting on YOUR part.

A Gannett Editor Helped Me with My Brochures That I Sent to Members of Congress: He Lost His Job. WHY?
www.LockerbieTransparency.blogspot.com



www.NISSANWhistleblower.com



Bob Look at What I Can Do With an Apple The NISSAN FRAUD is CONNECTED to
DUKE Energy Merger Scandal...





The NISSAN Whistleblower has told GANNETT about DOE Fraud and They Refuse to Report It... Why?
Gannett Knew Fraud was REAL & let 2 Federal Budgets Pass...Was Bob Dickey Protecting President Obama?
MESSAGE FOR Bob DIckey:

Bob... How BIG is Your Stick?
Evidently LOTS happens on the golf course?
So WHY did you Gannett "cover up" Sonny Bono's murder?

"I will lay down on the tracks to protect the investigative reporting here, for all the reasons I got into the business." Larry Kramer
New Publisher USA Today....

"The problem I see is GANNET has 'very little' to protect" Sharyn Bovat
Ignored Whistleblower www.NissanWhistleblower.com
Oprah Broke
www.NISSANWhistleblower.com

Bob, Gannett NE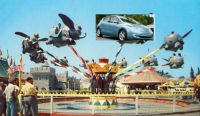 EDS a GOP Voice & I play golf & like "fancy" wine I "fit in." FYI- Hiring a guy from MSNBC does NOT Give Shareholders the comfort of GANNETT's committment to UNBIASED news.
Message to Gracia Martore



Google Executives Larry Page and Nikesh Arora were reached out too.... & SEC Investigation Requested
http://larrypagegoogle.blogspot.com http://nikesharoragoogle.blogspot.com
"Gannett Executive told me it was a LONE WOLF that most likely did it....Evidently I make people that profit from President Obama's pet projects nervous. I'm glad he's going to write my book since this whole thing is REAL and so VERY Bizarre......" the sad part is the FRAUD that NISSAN is doing is real and NOBODY is writing about it at Gannett and the Tennessean is the dominant paper in Tennessee, basically they have a monopoly on the news. Mark Silverman would not talk to me EVERYDAY if he was not "baby sitting" me.... we stopped having sex last fall. Also... He had Salmon in Mississippi and he does not care about the carbon footprint that was created by his meal.

WHY is the liberal media pushing over priced green technology if they do NOT care about the planet?

The NISSAN Leaf they "love" is built with outdated technology. Nissan took the Leaf battery technology "off the shelf" from the 90's (the C.A.R.B. days) just to get the FREE money from the DOE and the Treasury bank. NISSAN used an taxpayer guarenteed IDB as the collateral. I had a lawyer say a False Claims suit needs to be filed BUT if you win the bond gets exercised and then the taxpayers suffer EVEN more... www.NISSANWhistleblower.com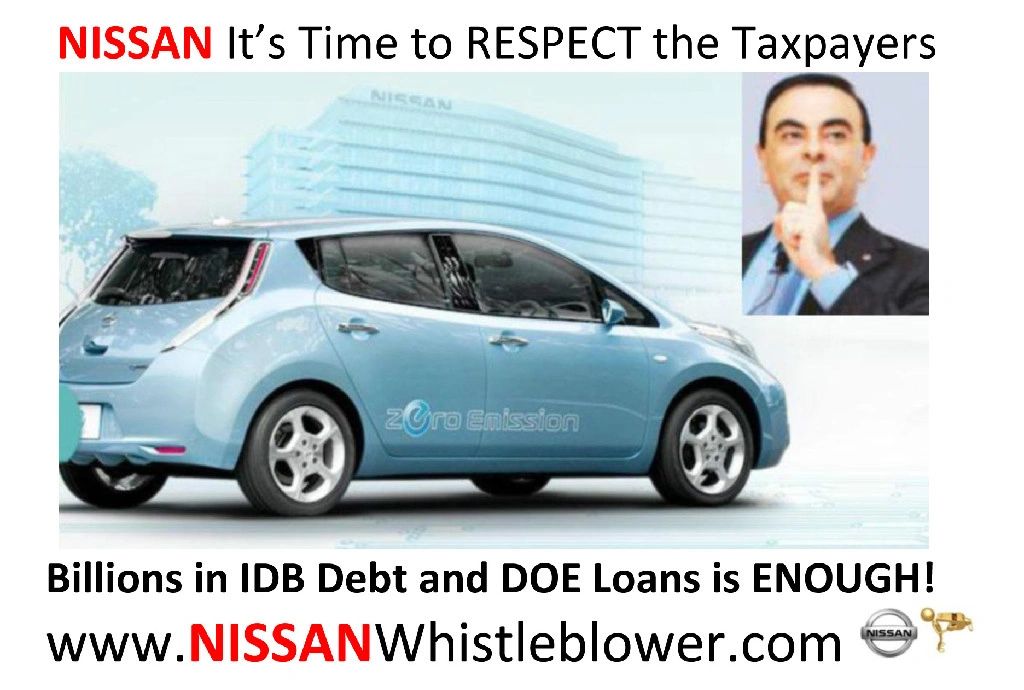 Bob Dickey when you travel to Tehran do they treat you like a king?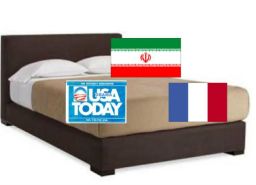 "New York taxpayer dollars should not benefit a corporation that partners with a regime that is the world's number one state sponsor of terror and has formed an alliance with al-Qaeda." letter to Nissan, UANI

Gannett has NOT reported DOE Fraud & Their Advertisers are in bed with Terrorist..... www.NISSANWhistleblower.com There's a reason WHY over 2 million hits & hundreds of thousands of page views on www.GirlintheBlackHonda.com read:http://nissanwhistleblower.blogspot.com/201 2/04/jimmorton-former-nissan-vice-chairman.html
It's time for GOOD Journalism




Email Sent to TOP Gannett Shareholders to Ask Gannett Management to Report News that Matters to Society: http://nissanwhistleblower.blogspot.com/2012/03/email-to-blackrock-and-alliance.html


As an American I'm TIRED of the Mainstream Media "ignoring" the fact that the Treasury bank funded a company (Nissan via Renault) who does business w/IRAN www.EricHolderInvestigateThis.com

Mr. Dickey,
Maybe Mr. Breitbart won't be able to tell the story of DOE fraud and that the Obama administration's Department of Energy gave an Obama bundler the contract to scrutinize the DOE loan given to a company whose parent Renault (Nissan's parent is a Fre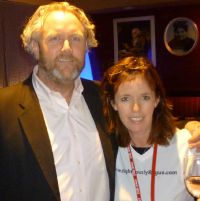 nch company) and they do business in Iran. Renault uses Nissan parts in cars that

they build in Iran and sell in Iran. Renault helps out the
economy of a country that want/does kill our troops.
That's not nice.

Click Here to Read About DOE Fraud Gannett Has Ignored

Did Someone Tamper with Breitbart's drink?
Your new product
The Bold Italic
is GENIUS
http://thebolditalic.com/
It attract the YOUNGER reader and it's "high end" so the yuppies will like it. YOU need to do this NATIONALLY and in special editions (like San Francisco) in ALL metro. Think of all the differenct ads you can sell. I see a GREAT travel section that connects people directly with airlines and hotels and tour companies:):)
What your misssing is the "lack" of POLITICAL bloggers.... You NEED 2. Get your...We love Obama and were gonna keep him in office "team player" that libreral point of view will assist in Gannett desired promotion of creating a "Lets have the government decide what kind of cars Americans should buy and tell them what to eat for breakfast socialist culture"
YOU will need balance to give the YOUR "bold italic AMERICAN edition" so have someone like "me" rant about Free Market Societies, democracies and need for an agenda that creates a culture of less regulations and more personal accountability.
I'm terrified.....I need to GET OUT!!! Think of me as a "Refugee Program" Even Mark Silverman told me the advice I got to move was "good advice".... I can't leave Tennessee UNTIL I get a job. I can't get a job that will provide me "income to live off of" and the funds to see my child. I had to give up custody of her due to the harassment I received from whistle blowing. Again the DOE fraud is REAL. NISSAN "really" does do business in Iran (via Renault). The Good Ole Boys who got the IDB/DOE cash have terrorized me. Since the Tennessean NEVER reported my story people in the community ONLY know what NISSAN & their allies have said. Rob the guy in charge of corporate security for ALL of the Americas (Brazil, Central America, Canada) in court said was the 2nd biggest threat from a risk "analysis" that he'd seen in his 30 year career. NOBODY will hire someone who's the 2nd biggest risk to one of the most prominent companies in Tennessee.
FYI- I was probably deemed a risk because they knew I had the capability to "find out information".... The NISSAN CEO Carlos Ghosn hired ex CIA from the Nixon era to "help" with corporate security as consultants. Also, Mr. Ghosn worked for a French company and those connected with that company were involved with Iran Contra.... The CEO of NISSAN today does deals with the Iranian government. Why did the Treasury bank fund a company that does deals indirectly & SHARES Technology with IRAN? IF Nissan were to EVER get battery technology that was "viable" then the Iranians would put it in their missiles that would be targeted at Israel. HELLO..... Isn't the mainstream media Jewish friendly?
http://www.girlintheblackhonda.com/To__Kim_Helper__the_DA_.html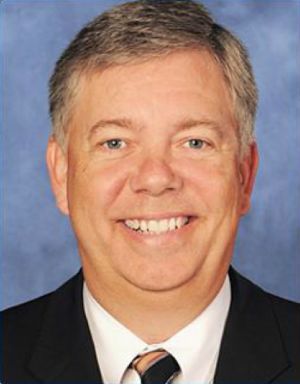 America there's a Problem with DOE
Spending and the Publishers of the
USA Today have IGNORED it.

NISSAN Used Technology from the 90's and that was NOT Nice....They Swore Out Warrants to Jail a Whistleblower 3 Times & that was NOT Nice.... Discrimination Against Women is NOT Nice (women in management went from 20.9% in 2006 to 10% in 2009 the year I whistle blew) Minorities and Gays Were Discriminated Against..... I spoke out against discrimination and nobody cares did you see what Randy McClain did to me....
www.mariadevarennetennessean.com


Isn't the Liberal media supposed to represent the people "like me".... Mr. Dickey I blame the lack of reporting of the Tennessean reporters, they did not care about abuse being done to a whistleblower....

Are kickbacks allowed to Gannett employees? Mark Silverman squashed my story before Maria De Varenne did and he got a "great deal on an Infiniti" and his kid got a job at NISSAN and one at Volkswagon..(both of those companies got cushy deals with the Tennessee ECD office & I whistleblew about bad spending of Tennessee taxpayer money given to NISSAN from the ECD.... At taxpayers expense I was asked to find a spa for oxygen facials for a French VP that was moving from Paris (Renault) to Tennessee.

Mark Silverman is my friend...and it might sound cleshay but with friends like him I don't need enemies..... The man has lied to me "multiple times".... I don't know why?

Sir, are you having a great weekend! I would like to have one of those and instead of "getting the word out about DOE fraud and mainstream media bullying I'd rather be with my child or doing something fun. If "things don't get resolved" then I will sacrifice "my life" to exposing the viscious attacks I've endured as a whistleblower.

I want my "life back". Please call Nissan and tell them it's time to treat the whistleblower and the American taxpayer with RESPECT. You might want to tell Maria De Varenne to "report the News".... it's about time.

Sharyn


Gannett's Bob Dickey can Help the Taxpayers by INSISTING
on Responsible "unbiased" Coverage of Local News....

The NISSAN Whistleblower is asking Robert Dickey of GANNETT to Communicate the FRAUD that his VP Kate Marymont ignored

Bob it's Time to "Cut Bait".......NOW!!!!


-----Original Message-----
From: sharynbovat <sharynbovat@aol.com>
To: *********@gannett.com>
Sent: Mon, Oct 17, 2011 8:22 pm
Subject: From Sharyn Bovat the NISSAN Whistleblower....reference Kate Marymont and Mark Silverman

Mr. Dickey,
This is Sharyn Bovat www.sorrysilverman.com & www.gannettmcnews.com
If Kate Marymont is "still" at Gannett can you replace her with someone who "respects" the taxpayer.
........
Peace and Respect
Sharyn Bovat
615-415-6675

A local told me "I bet the Tennessean doesn't know about your story... I can't believe if they did they would ignore what's happening to you". So just in case people do NOT believe that Gannett is biased against republicans. I'm putting PROOF that the Tennessean knows on my blogs......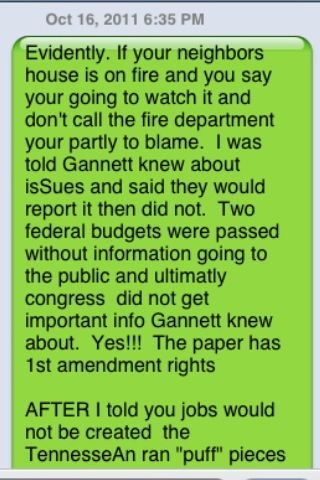 In America the mainstream media is biased and Gannett's VP of Community Publishing Kate Marymont helped "cover up" wasteful spending of taxpayer money & let abuse of a whistleblower happen!!!
The USA today is supposed to be for ALL people "not just those with a liberal agenda"
Mark Silverman the former editor of the Tennessean & the Nissan Whistleblower became friends in January 2011.
Sharyn Bovat met with Gannett owned Tennessean editor to tell him about bad spending of taxpayer money (DOE) and discrimination happening at NISSAN North America. The Ben Bradlee winner and the whistleblower had a lot in common and he asked her out on a date. Voicemail from Feb-6th-2011
//www.youtube.com/user/sharynbovat#p/a/u/2/KST1vW3c7ZE
Mark tells Sharyn Bovat 4 months AFTER they met that Gannett/the Tennessean would do a story //www.youtube.com/user/sharynbovat#p/a/u/0/q1vph00Q5GI
Gannett never did the story…. Sharyn Bovat has endured over 14 months of "trumped up charges" and over 2 years of harassment in the Tennessee courts.
June 12th Mark met Sharyn in Nashville after Bovat went public with their friendship and started a blog www.sorrysilverman.com
that day he told her the "ultimate" person responsible for squashing the Nissan story was Rahm Emanuel.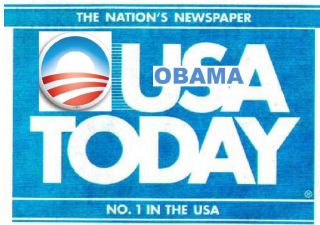 Mark Silverman knows Sharyn Bovat is INNOCENT of the politically motivated charges and he wanted to tell Sharyn Bovat's story & "he too" was silenced.
In late August the Gannett VP in charge of "what news goes into the papers" Kate Marymont kept calling Mark Silverman (it was the Sunday BEFORE Solyndra went bankrupt...) Mark quickly left his spot as editor of the Tennessean.
The DOE issue Bovat blogged about was "real" & Nissan too had a product that was "not competitive" and YES another bad DOE loan happened. ??? Maybe someday it will get reported.
Sharyn Bovat's webstats in August had been "changed"..... Viewers connected to Solar companies were missing also stats from before Nissan's DOE loan closed are "not visible".... Nissan got over 1 billion dollar DOE loan and it's been reported the bank used is the same as the post office.... a bank usually used for "risky" loans that most likely will not be repaid ??? Why did a foreign company get so much DOE/taxpayer money....
Sharyn Bovat has asked "tough" questions on behalf of the American taxpayer her life has been miserable.... for speaking up. Gannett is silent.
Now Gannett corporate executive Mark Silverman was going to support Sharyn in another court appearance but on Sept 26th 2011 he called to say that his boss Kate Marymont won't let him come to Tennessee to support her.
//www.youtube.com/user/sharynbovat#p/a/u/1/5GHBUIyZDr0
PLEASE help the Nissan Whistleblower Sharyn Bovat feels TERRORIZED in Tennessee and Gannett is not reporting the wasteful spending of DOE money and discrimination. Mark Silverman knows Sharyn Bovat is innocent and he can't help her..... Mark Hope you have fun in Ann Arbor... GO MICHIGAN!!!
-----Original Message-----
From: Silverman, Mark
Sent: Saturday, April 02, 2011 6:49 PM
To: McClain, Randy
Subject: FW: Message to Gannett/Tennessean's editor Mark Silverman
Randy,
This is clearly not the first time issues surrounding the Leaf's battery
have been raised. With the Congressional stalemate over the federal budget, we
should revisit the issues of the battery and the federal support it receives.
Let's discuss.
Mark
-----Original Message-----
From: Sharyn Bovat [mailto:sharynbovat@aol.com]
Sent: Saturday, April 02, 2011 6:36 PM
To: Silverman, Mark
Subject: Message to Gannett/Tennessean's editor Mark Silverman
Mr. Silverman,
When reviewing your messages to me YOU were blowing me off. That scared me
because you're the editor of the largest paper in Tennessee.
The Renault Three have been deemed innocent and have been vindicated in large
part due to the actions of the French media, this week It became obvious the
Tennessean was not going to write about my whistle blowing and harassment i've
received due in large part of my vocal concerns about the EV. The accused
Renault executives had some of the same concerns about the electric cars
unknowns. The falsley accuaed spies were lucky for in Paris the press asked
Renault questions, this forcing transparency.
America has funded Carlos Ghosn's EV dream with over a billion dollars of DOE
loans-stimulas money and other taxpayer funded sources.
Soon Congress will try to pass a budget that "ups the ante" and in my
mind that puts too much American taxpayer money on the table. The
funds for subsidies need to go to "cars that people will want to buy"
The Leaf battery was created in the 90's. It's already proven in "real world"
driving that it did not meet the 100 miles per charge expectations. Also ghosn
says he'd have to sell a million of them before the Leaf will become
"profitable". That's Not going to happen with that design and the inconsistant
range.
Current Concern:
Quick chargers should not be built until America has one plug in standard for
fast chargers. Too much money is being wasted and YOUR paper remains silent.
??? WHY
Americans are suffering in this bad economy. The people need the
press to aak the tough questions and to report the news that will promote better
use of taxpayer spending
Please read www.gillespierove2012.com
Thank you sir and have a great night!!!
Peace and Reapect
Sharyn Bovat